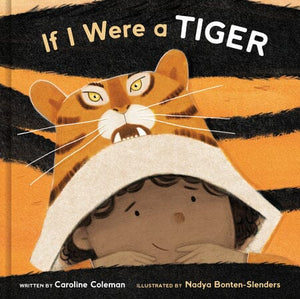 A whimsical and playful rhyming picture book about a young boy who imagines himself as a tiger to overcome his fears—only to realize that he can trust in God.
Meet Tim Bone. He has a big imagination, and when it roams wild, he's afraid of a lot of things. He's scared of the moon and the wailing typhoon, and he won't wear his sneakers because he fears hidden creatures. Tim's nervous at home, at school, and at play!
Fed up with being frightened, Tim comes up with a bold solution: He's going to become a tiger so he can be fiercer than his fears! There's just one problem: If he's a tiger, he can't be
Tim
. Could there be a better solution? What if Tim puts his trust in God—who made both boys and tigers—instead?
If I Were a Tiger
invites kids of all ages to live in the comforting truth that no one has to carry their fears alone, and offers the reminder that God is only a prayer away. 
Age Group: 3-7years
Page Number: 30 Pages
Format: Board Book

9780593235546