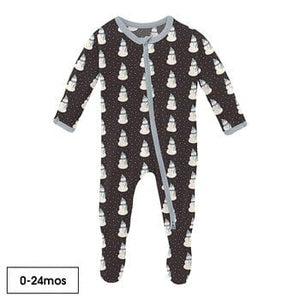 Zipadeedoodah! Easy on and off.  Just perfect for those middle of the night changes. These sweet footies features flip paws to cover cold hands and prevent scratching.  The inside of the foot is lined with super soft fleece and the bottoms feature grips to prevent slipping.    
Breathable, buttery-soft Bamboo fabric (95% Viscose from Bamboo, 5% Spandex)
Machine washable
Hypoallergenic
Federal regulations require sleepwear not treated with flame retardants to be snug fitting.
Rated UPF 50+!
Style: