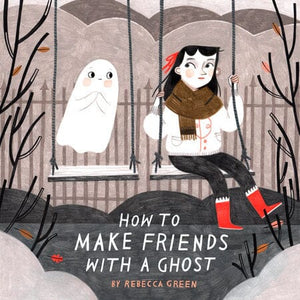 Ghosts make great friends for life (and beyond)! If you're lucky enough to have a ghost find you, you'll need to know how to treat it right. Open up this "how-to" guide to discover how to be the best friend a ghost could ever ask for!
What do you do when you meet a ghost? One: Provide the ghost with some of its favorite snacks, like mud tarts and earwax truffles. Two: Tell your ghost bedtime stories (ghosts love to be read to). Three: Make sure no one mistakes your ghost for whipped cream or a marshmallow when you aren't looking! If you follow these few simple steps and the rest of the essential tips in
How to Make Friends with a Ghost
, you'll see how a ghost friend will lovingly grow up and grow old with you.
A whimsical story about ghost care, Rebecca Green's debut picture book is a perfect combination of offbeat humor, quirky and sweet illustrations, and the timeless theme of friendship.
9781101919019

Age 4-8 years