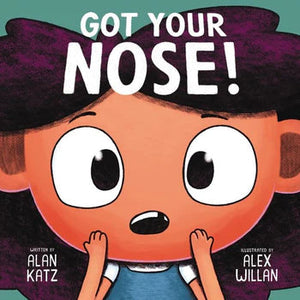 This hilarious new picture book by New York Times bestselling author Alan Katz and Unicorns Are the Worst creator Alex Willan imagines what happens when a good-natured game of "got your nose" goes too far—and one little girl's nose runs free.
Becky loves Grandpa Max. When he visits, they have a lot of fun together. But when Grandpa Max pulls his favorite prank on Becky, he accidentally takes her nose—for real!
OH NO!
Now Becky and Grandpa Max have to chase Becky's runny nose all over town—or else, who nose what will happen?
With vibrant art and hilarious wordplay, children, parents, and grandparents alike will love the funny, fast-paced picture book tale that Today Show cohost Dylan Dreyer said "will leave you smiling."