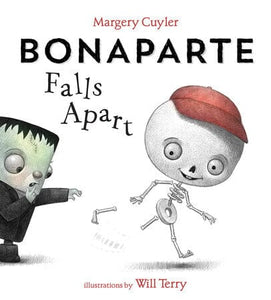 A clever and humorous picture book about a skeleton who keeps falling to pieces and needs some help from his friends to pull himself together.
Bonaparte was having a tough time. It was hard for this young skeleton to just hang loose, when he couldn't keep hold of himself. When he played catch, his throwing arm literally took a flyer. Eating lunch could be a real jaw-dropping occasion. How can he start school when he has so many screws loose?

Luckily, Bonaparte hit the bone-anza when it came to his friends. Franky Stein, Black Widow, and Mummicula all have some bone-headed ideas to help. But it takes a skeleton's best friend--a dog named Mandible--to retrieve Bonaparte's missing confidence.
9781101937686

Age 3-7 years