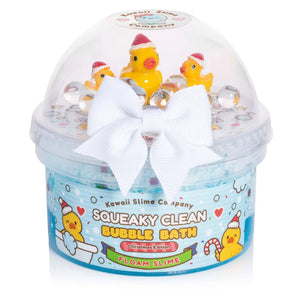 Rubber ducky you're the one.. you make bath time lots of fun! Squeaky Clean is the CUTEST semi-floam ever! Packed full with 3 different sized foam beads and then adorned with tons of sparkly add-ins like glitter, iridescent baubles and "bubble" beads. It makes for an extra crispy, crunchy Slime experience you won't be able to stop playing with. We scented this aesthetic Slime with a beautiful soft, sweet floral bubble bath scent that will make you feel fresh and clean. And don't worry.. cute squeaky duck toy included with each Slime!

Style: SQUCLECHR_8064

Ideal for children 6 years and older

Please keep slime away from children 3 and under

Adult supervision suggested for children ages 4-6.