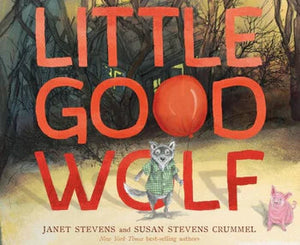 From the beloved creators behind Tops and Bottoms comes a fractured fairytale about a wolf who is so good, it's bad. Will he ever fit in with his family of Big Bad Wolves? Or will he show everyone that sometimes it's best to honor who you are?
Little Good Wolf does not fit in with his family. No matter what Papa Wolf and Mama Wolf try, he is always cleaning his room or even playing with piggies! They have no choice but to send him to Bad School to learn to be a big, bad wolf.
But Little Good Wolf's teachers think he's hopeless, too. Wicked Stepmother cannot get him to be selfish, and Mr. Troll cannot teach him how to be rude. Will he ever be BAD enough? Or just maybe, there is a way to be a wolf while being GOOD?
Populated with expertly rendered fairy tale characters and infused with delightful madcap fun, this celebration of self-acceptance is an instant crowd-pleaser.