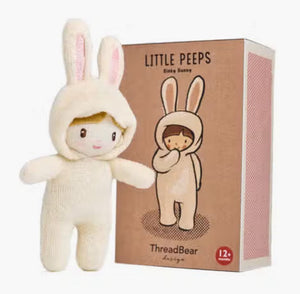 Binky Bunny Matchbox Doll by Threadbear Design.
A wonderfully tiny doll who is finished in the softest quality fabrics. Binky doll is wearing a little bunny onesie, and can wear his hood up or down. Take this toy with you on an adventure, he is great for little hands and fits perfectly in your pocket! This dolly comes in a keepsake gift matchbox, illustrated in a retro style, making it the perfect gift for any little boy or girl.
Perfect for imaginative play, this doll supports conversation practice and story telling with young children.
Product dimensions: 13.5 x 5 x 4 cm
Suitable for 12 months +